Let's Enjoy Playing
UNION ARENA More

Each booster pack contains 8 cards.
The 4 types of Rarity includes [Common (C)], [Uncommon (U)],
[Rare (R)] and [Super Rare (SR)].
There are 100 types of playable cards and 6 types of extremely rare AP cards,
sealed randomly into each booster packs.
Additionally, this product contains Parallel Rare Cards!
Take your enjoyment for UNION ARENA to the next level by strengthening
your deck from your favourite series!
Relive the story with your deck build

A large gathering of familiar characters such as Roboco and Bond!
Fight by using the Event Card [Oh Yeah!! Manly Man Dinner!!] and strengthening Roboco,
Bond that strengthens his comrades,
the powerful Gorilla Gachi, and the strategist Motsuo!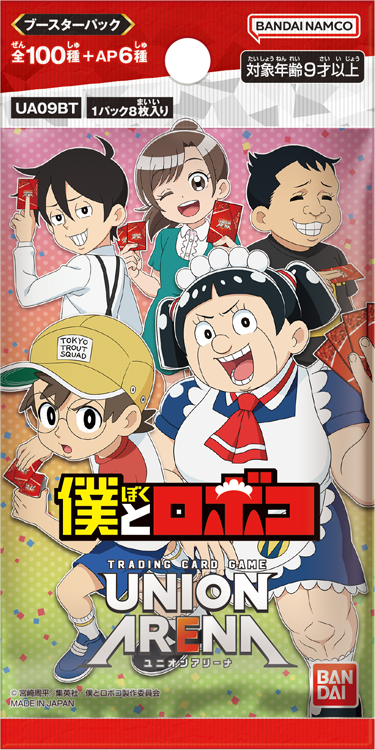 UNION ARENA BOOSTER PACK
Me & Roboco [UA09BT]
Release Date
June 30, 2023
Contents
・Cards x 8
・1Box : Packs x 16
Rarity
・SR(Super Rare) : 12types
・R(Rare) : 18types
・U(Uncommon) : 35types
・C(Common) : 35types
・AP(Action Point) : 6types
*Parallel rare is included in this product.
*Card types are random.
*The illustration may differ somewhat from the final product.
*Product details may differ from the actual product.